> >Big bugs and other giant insects
Big bugs and other giant insects
Everyone knows that the largest insects lived in the prehistoric era, but even in the modern world you can still find quite large representatives of this class, from the look of which goose bumps run over the skin.
1.
Meganisoptera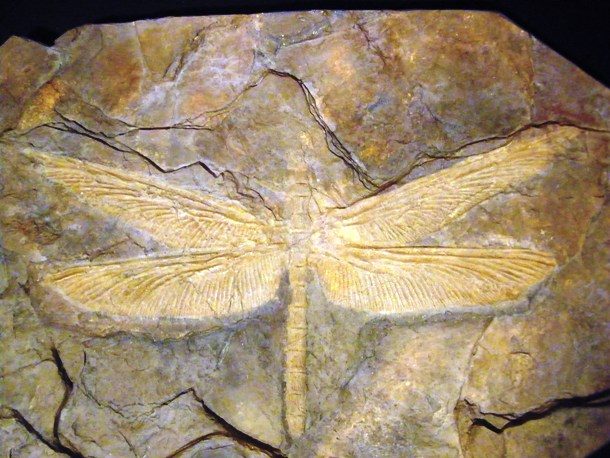 Meganisoptera (or Griffinfly) is the largest dragonfly that has ever lived in the world, as well as the largest prehistoric insect. This giant with a wingspan of 75 cm reigned in the sky about 317 - 247 million years ago, long before pterosaurs, birds, and bats appeared.
2.
Giant New Zealand Grasshopper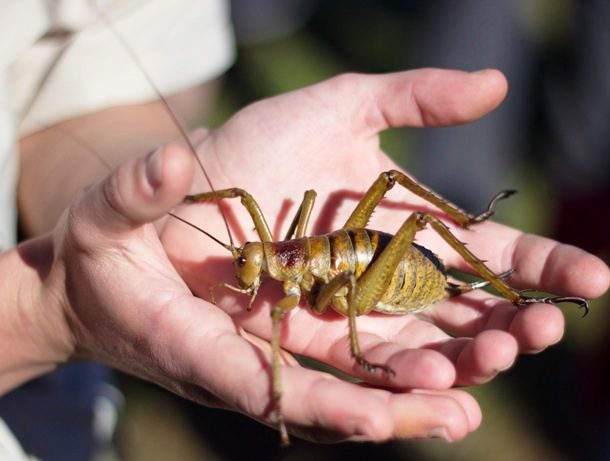 The weight of a grasshopper can reach 35 g. During the day, it usually hides among fallen leaves or under rotten trees, but at night it leaves its secluded place. Despite its huge size, the grasshopper lives only 6-9 months.
3.
Titan woodcutter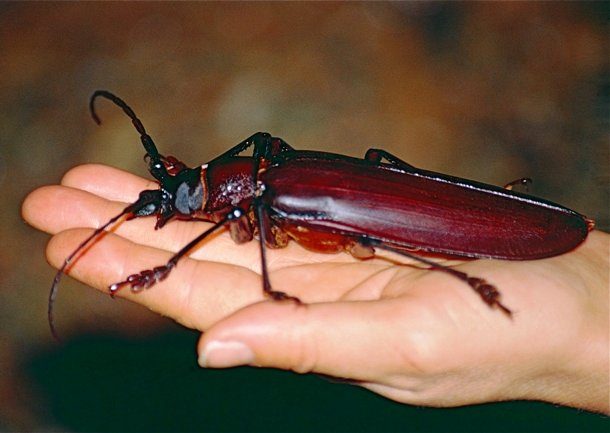 Originally from the tropical forests of South America, this beetle is the largest insect in the world. Reaching 16.7 cm in length, this giant insect with its tongs can easily break a pencil in half. There were cases when these mites pierced into human flesh.
4.
Australian Chopstick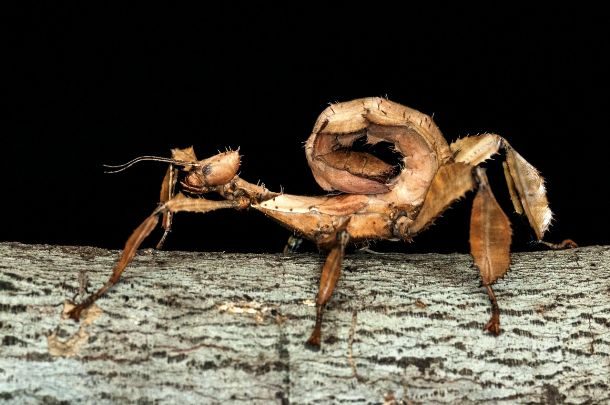 This huge insect feeds on plants and lives in Australia. In females, the body is covered with prickly thorns; in males it is smooth. Females are larger than males and can reach a length of up to 20 cm. Although outwardly they look like praying mantis, the connection between them is not close.
5.
Peacock Atlas atlas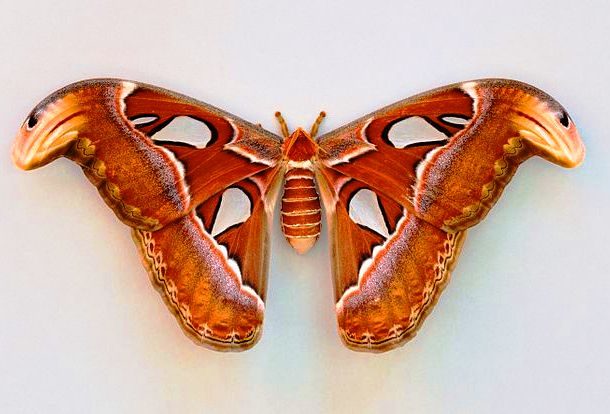 This large butterfly lives in tropical and subtropical forests of Southeast Asia. The wingspan of up to 25 cm. These beautiful creatures fascinate with their bright colors. But they live only 5-7 days.
6.
Giant digging cockroach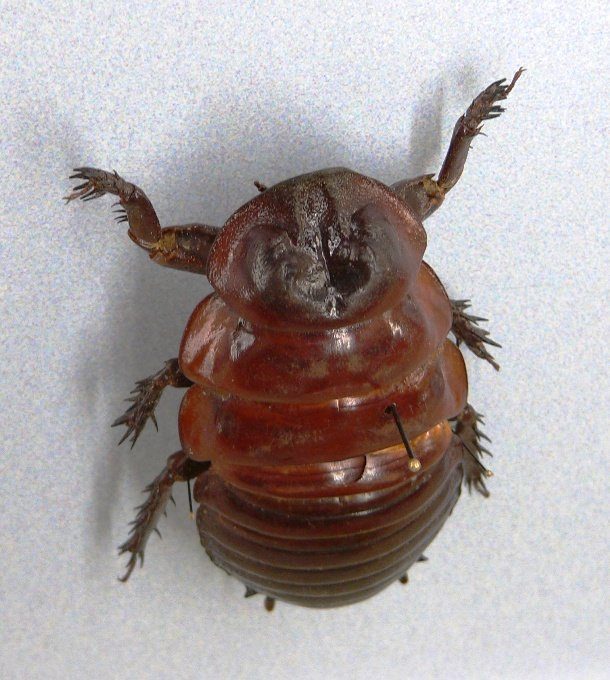 Mostly lives in the tropical parts of the Australian state of Queensland. It is one of the largest and heaviest cockroaches in the world. Reaches a length of up to 8 cm and weighs up to 35 g. Also known as the rhinoceros cockroach. Some people keep him at home as a pet. He can live up to 10 years.
7.
Elephant beetle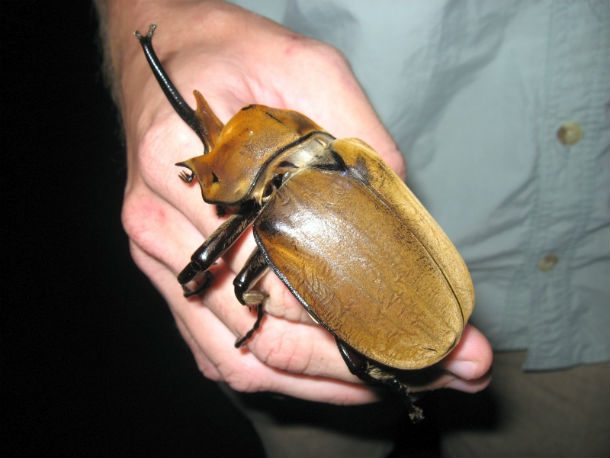 A native of the tropical forests of Central and South America (most often found in Mexico). This amazing beetle reaches a length of up to 13 cm. It is active mainly at night. The beetle eats tree sap and fallen tropical fruits.
8.
Chen Chuck



This is one of the longest insects in the world (up to 57 cm).He was recently discovered in a tropical forest on the island of Borneo. This type of stick insect remains largely unexplored, because the insect lives on the treetops, where it is very difficult to detect.
9.
Queen Alexandra's Birdwing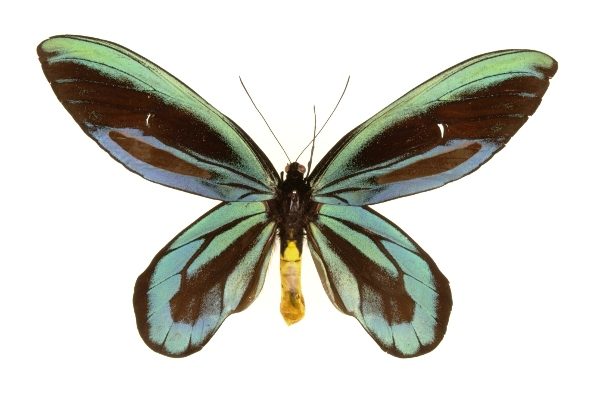 The world's largest butterfly, which can be found in the rain forests of Oro province in the east of Papua New Guinea. This giant creature has a wingspan of 30.5 cm, butterflies feed on liquid nectar of tropical flowers.
10.
Giant water bug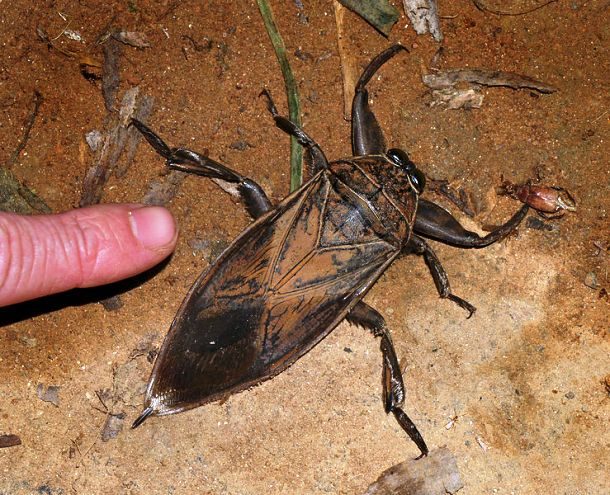 This large insect can be found in freshwater ponds, lakes, streams and rivers in North and South America, North Australia and East Asia. As you know, these ferocious predators attack small fish and frogs, but they can also kill small snakes and even turtles. The bug is also known by other names - "biting fingers" and "alligator mites".
11.
Rhinoceros beetle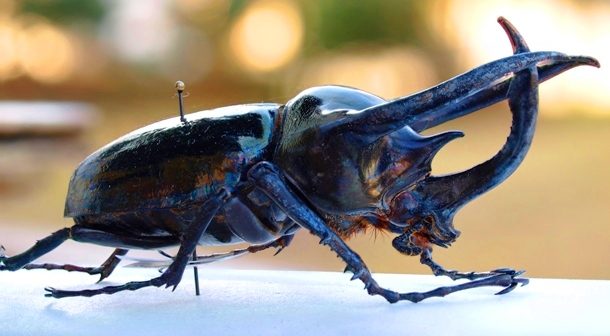 Also known as the Caucasian Beetle. This especially large species is found throughout Southeast Asia, especially in Malaysia. Males can reach a length of 13 cm.
12.
Earwig of St. Helena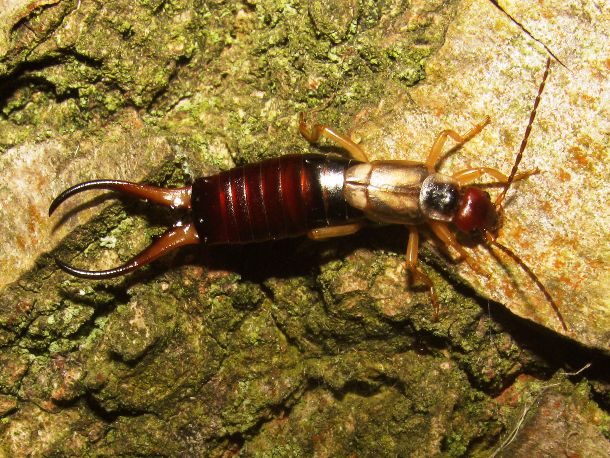 The largest type of earwigs,dwelling once on St. Helena in the South Atlantic Ocean. The body length reached 8 cm. The last confirmed meeting with a live earwig took place in May 1967. In 2014, this wonderful view was officially declared extinct.
13.
Goliath beetle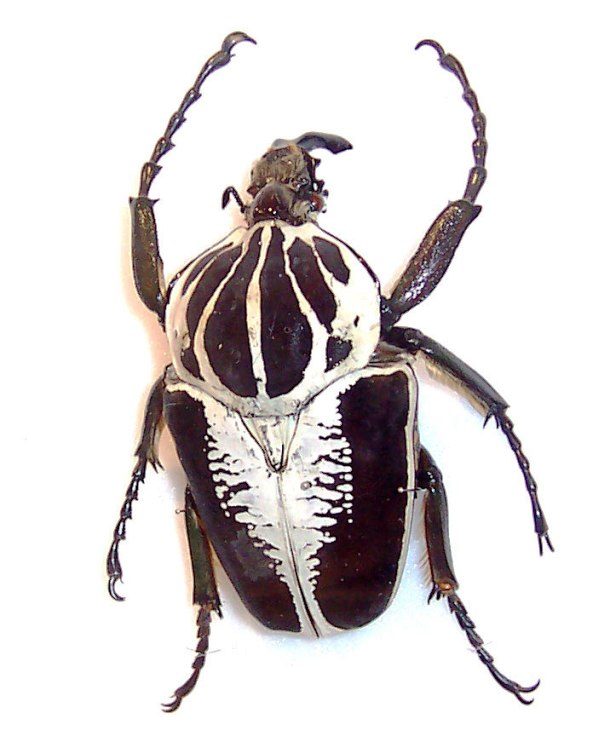 Originally from tropical areas in Africa, goliath beetles are striking in their size, their larvae are also very large and heavy (they can weigh up to 100 g). Adults reach a length of 12 cm.
14.
Titan woodcutter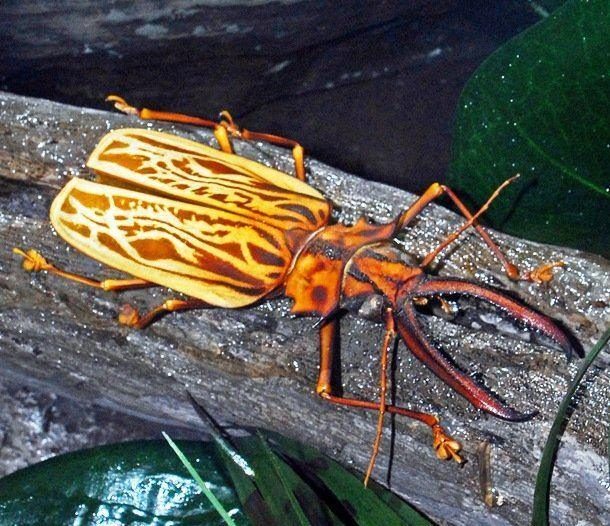 Occurs in tropical forests of South America. The beetle is easily recognizable by its beautiful pattern and large jaws. Despite its huge size (more than 17 cm in length), this species is well adapted to flight.
15.
Wasp tarantula hawk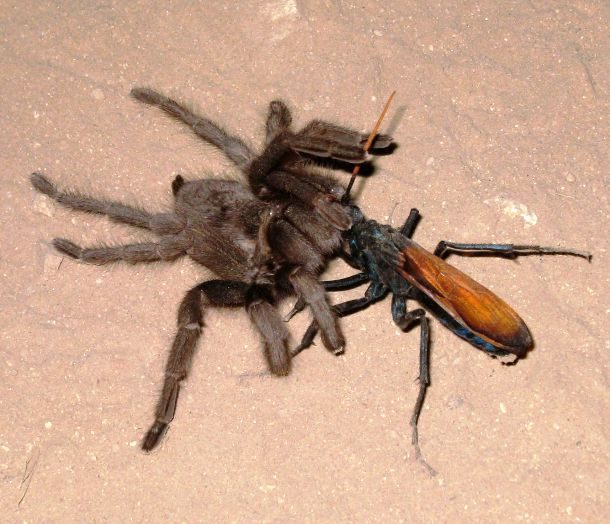 The wasp hunts on spiders, including tarantulas. Females of this species paralyze the spider with their bite. Then they drag a spider, which may be 8 times their weight, into the hole where they lay eggs in it. The larvae of the wasp then feed on a tarantula and eventually turn into adult individuals.
16.
Wasps Scoli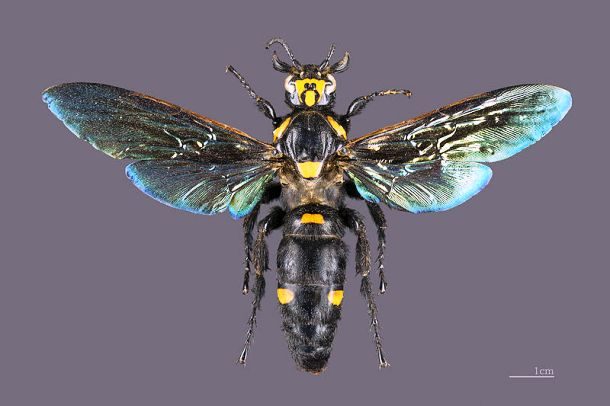 Solitary wasps that inhabit the Indonesian islands of Sumatra and Java. Their wingspan is 11.5 cm. At the larval stage, these wasps parasitize on the larvae of the giant rhinoceros beetle.
17.
Deer beetle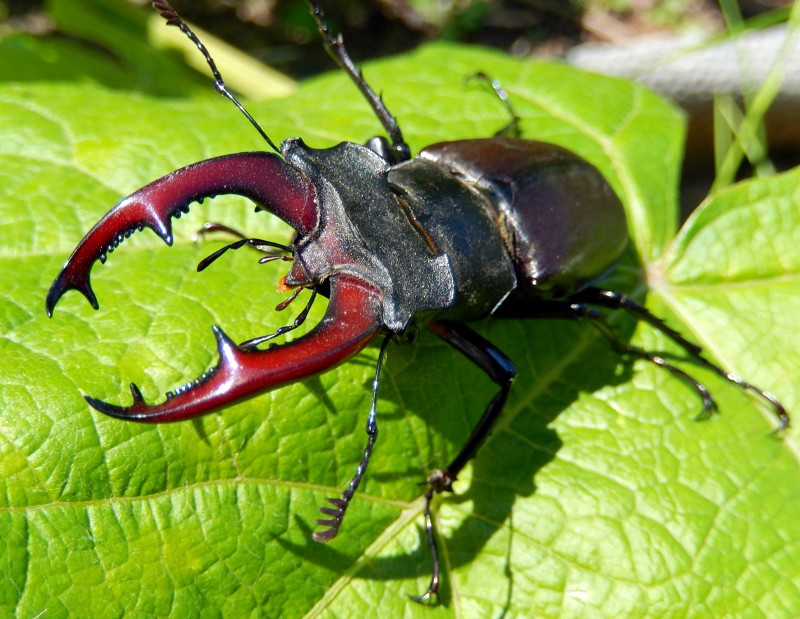 The beetle has a large size (up to 12 cm), a frightening appearance and impressive jaws that look like ticks. However, this giant feeds on the sap of plants and uses its jaws only during courtship or in battles for females. It usually does not pose a danger to humans.